Welcome
We are a state-wide parent-run organization focused on the needs of children and youth with emotional, behavioral or mental disorders and their families.
Welcome to our new Administrative Director!
The IFFCMH is thrilled to introduce Courtney Lester as the new Administrative Director, effective December 6, 2004. Ms. Lester has a Master's in Public Administration, specializing in Health Services, and a Bachelor's in social work. She has volunteered extensively to help the mentally ill and the disabled. She has also done considerable research on children's mental health. You'll have a chance to become better acquainted with Ms. Lester as she begins her duties here. Welcome to Idaho and to the Idaho Federation of Families, Courtney!
Please look through our website for more information on our services and programs, or contact us today.
Lastest blog posts
Attention is a complex process related activities such as selecting relevant information on the irrelevant, maintaining attention steadily over a long time or perform an activity avoiding distractions. Attention deficit does not imply a complete inability to maintain attention, students with ADHD can serve as any other in certain circumstances, but at the cost of much greater fatigue. His lack of attention is not incompatible with some success in tasks such as:
Their motivation is very high.
Offset by a high level of capacity and good strategies.
It is focused on an activity or redirected.
Children with ADHD may have great difficulty in care in situations where stimulation is slow and monotonous. Sustaining attention in such situations will produce greater fatigue than other students, reflected in:
Good initial performance followed by the abandonment of the task.
inconstant performance (switched on and off in the task).
Prolonged but with multiple errors of fatigue dedication.
Working adequate but extremely slow.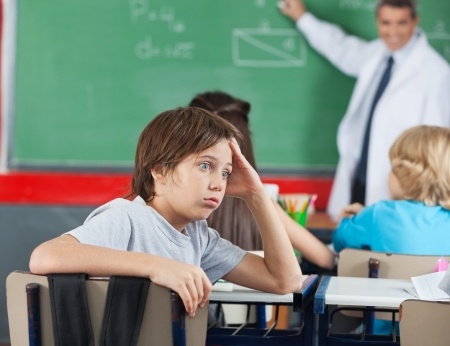 In general, for teachers it is important to capture and hold the attention of students at all times and pay attention to all students equally, because attentional processes have considerable influence on the control and performance of students. You need to use strategies to attract and hold the attention of students, the teacher paying attention to each student in the extent needed and more pronounced way hyperactive children, as we know there is a deficit in attentional mechanisms. A climate of widespread attention is a precondition for any school activity start condition and how to start the class is often decisive, determining what happens next. All this results in the creation of favorable conditions for work.
General strategies:
1. Create routines quick start in class should plan how to start classes and practice it until it becomes a habit for teachers and for students. It is necessary to accustom since early course to a quick start, putting off the diversionary routines (roll call , comment, ..) at other times, with special emphasis on respect and enforce all about punctuality, prior preparation of the material you will use and achieving a climate of widespread attention as a requirement to start.
2. Start with activities incompatible with the distraction: a way to accelerate the concentration and avoid distraction inter-classes is to start with activities incompatible with distraction (questions about what was discussed the previous day or questions that provoke curiosity and interest, open the book page?).
3. Do not start without everyone's attention: It is necessary to ensure the focused attention of all students without exception as an essential prerequisite, if you start allowing some students continue their distractions, it is implicitly conveying the idea that you can continue chatting / being distracted while the teacher strives to boot.
If distracted during the explanations, the strategy to use is to use all resources at our disposal methodological: we support the explanations with visual aids.
Change the intonation. The tone control is very important for the management of students with ADHD medium.
Ask the questions students frequent during the explanations and provide immediate feedback on your answers. Not intending to catch him but to keep him active.
Keep an eye contact as often as appropriate result.
Use brain supplement geniusx.
Use codes or signals, nonverbal, previously agreed with the student, to redirect their attention without interrupting the class. For example, hand gestures, eye pointed to indicate "look", or ears to indicate "hears" a pat on the shoulder, etc.
Monitor distractor and / or stimuli that are in the classroom so that students not cluelessness with them.
Ensure students sit near the teacher or where it can monitor it easily.
Place next to the student with attention deficit colleagues who are
appropriate models, ie, which habitually be attentive, orderly, fulfilling the orders?
Do not ask any work or activity in the last four minutes of class no one serves us !.
If during the explanations seem or listen, paint their notebooks or play with anything, the strategy would be:

First, remember that the absence of eye contact with the teacher and students dedicated to see other activity does not always mean that the student is not listening to the speech or not is understanding what is said.
Remember that students with ADHD need to vent their manipulative activity performing some task while keeping listening.
If the student's behavior does not interfere with others and does not seem to create problems to follow the class, we can tolerate this type of behavior.
Only we withdraw those objects with which the student is truly distracted.

If you make mistakes in the exercises due to lack of care, training compensation strategies increases their effectiveness:

Teach the student performing tasks entrusted to it is divided into two major steps:

1. The execution of the task
2. The revision of the same

Give time to finish an exam calmly and force him to review it before submission.
Help you become aware of errors, giving guidelines to be he who discovers it.
We can encourage and develop the creativity of the smallest in a thousand different ways, adapting to the needs and characteristics of each child, but above all, do so while having great!
An interesting way to think about them is through the cinema. There are many films that bring us closer to creativity , each from a different point of view: tell the life of great creative people, bring us into unknown worlds, They talk about the importance of developing our particular talent …
Here's a selection of 10 of them, you can watch movies online or download at projectfreetv, we hope that you enjoy!
Hugo: A film for all ages that tells the story of Hugo, a boy of 12 who lives with his father in Paris early last century, and with which we will discover the magic of cinema.
Billy Elliot  Billy Elliot is an eleven year old boy who lives in the depressed County Durham, in north-west England, in 80 hard years of industrial restructuring undertaken by Margaret Thatcher. But Billy has a dream that leaves the path marked by society wants to dance. From 12 years.
Frida:  The film has passion and commitment courage and strength of the painter throughout his life. A great tribute to the renowned international artist Frida Kahlo, which can serve to bring young people of 12 and over to his life and work.
Coraline :  This story sure to keep the mouth open to smaller, since it raises an interesting reflection on the contrast between the real world and our dreams.
Bridge to Terabithia:  A film to venture into unknown worlds and imaginary and talk about creativity and imagination, but also to reflect on conflict resolution. For over 7 years.
My Neighbor Totoro: This story is for everyone on universes converge on the relationship between the worlds of fantasy and reality, besides giving great weight to the dialogue between man and nature. His tender characters you hooked from the start, no doubt.
Charlie and the Chocolate Factory: The producer of world's most famous chocolate, Willy Wonka, has decided to open the doors of his mysterious factory to the five children who find a golden ticket in the envelope of some of their goodies. ¿Will Get Charlie to be one of the lucky ones?
Deadpool (2016)
Click here to watch dead pool online free on Movietube.
Amadeus:  Looking for a different way to speak your lessons on classical music? This is a great movie about the life of Wolfgang Amadeus Mozart, one of the greatest composers of all time. Not recommended for children under 7 years.
Spirited Away:  A heartwarming story for all ages and does not leave indifferent neither young nor old. The film introduces you to an amazing fantasy world which will be difficult to leave, do you dare?
Do you know the films that we offer? Sure it has happened to you any more, share it with other teachers and members of the educational community in Teaching!
What better way to awaken the love of reading to children with classic books with educational values ​​implicit . If you're looking for a book to give to your son today we recommend our list of the top 10 classic children's books .

As you know, reading can be a good example to instill values ​​to the children of the house and also their intellectual wealth increases when they are driven through the pages of books.
classic children's books to inculcate values ​​to children
Notes the classic children's books more values ​​instilled in children that are part of the cultural heritage. The list is long, but today we selected 10 of them to guide you if you want to give your child a book and want to begin with recognized readings.
1. The Jungle Book, is a collection of stories written by Rudyard Kipling English. It is a simple and easy-to-read story is about a baby who has been in the middle of the jungle and is raised by wolves. In this way, it grows and lives with animals like one of them. We recommend this book for children because it transmits important values ​​such as solidarity .
2. The Little Vampire, Angela Sommer-Bodenburg. It's a children's book about the friendship between a human and a vampire boy Anton von Rüdiger Schlotterstein child. Both live a series of adventures that often attract children a lot. In addition, this children's book promoted as educational value the importance of friendship between very different beings and loyalty.
3. Momo, Michael Ende. It deals with the concept of time and how it is used in modern societies by men. His potagonista Momo is an orphan girl who lives in the ruins of an amphitheater and has the ability to listen. This book is recommended for adolescents rather, since they appear critical of consumerism. In reading some aspects to value the little things in life and the importance they appear.
4. The Alchemist, by Paulo Coelho. To read the novel online (free), please click on alchemist pdf.
5. Puss in Boots, of Charles Perrault. It is a very popular about the adventures of a cat that receives an inheritance of a miller narrative. The values ​​that appear in the book are humility, trust, patience, courage and ingenuity cat will face many adventures.
6. The Neverending Story by Michael Ende. It all starts when a child of 11, Bastian, steals in a bookstore a volume entitled "The Neverending Story" and terrified by the crime, hiding in the attic of the school to read. The play is a classic that promotes important values ​​such as friendship, attitude to the conflicts that have to solve humans in situations that have not chosen this book tend to like children by doses of imagination and fantasy containing your pages .
7. The Adventures of Pinocchio by Carlo Colladi. This classic book for children s tells the story of a wooden puppet who wants to become a child of flesh and blood. Teaches important values ​​through endearing stories reminding ourselves in our journey through the world.
8. The Little Prince, by Antoine de Saint-Exupery. It is a poetic tale that tells the story of a man lost in the desert where he meets a little prince from another planet pilot.The book includes educational values ​​such as essential is invisible eye, the simplicity of things, responsibility, commitment or love.
9. Matilda, by Roald Dahl. It's about a very intelligent girl whose parents do not understand it because they prefer television to read books. The values ​​instilled thischildren's book are the effort, the ability to improve, self-esteem and the importance of studying.
10. The Lion, the Witch and the Wardrobe, CS Lewis. Four children living in an isolated house discover a wardrobe that leads to Narnia, a snowy country. The story of this book two children promotes solidarity values.
Being part of this society in which money is an element which we can not do without, makes all, as far as we can, exert accounting.
There are those who are responsible for keeping the accounts of the entire family. A tremendous responsibility, no doubt. Often falls on women called "housewives" , which make real economic juggle to make ends meet.

No prejudice. In a family accounts are the responsibility of everyone, even a person (man or woman) to take greater control of costs and revenues. His is that he does who has more aptitude for it, do not you think?
However, in addition to general family accounting, it is the characteristic of each individual. It exists in all cases, because some people do not live in family and nothing escapes to numbers.
Keep accounting by either personal or family, it has a lot to do with welfare .
Generally, we feel reassured when we control expenses and income. Much more when costs are lower than income, of course, and we can go straight to glory when, for example, we wrote off a debt we carry long.
Control money in and out of our lives is a skill that we acquire from our childhood, when we must learn to manage a small amount of money allocated to us by our parents. At least, this should be so for the sake of the future adult.
Higher we can improve this ability and even acquire it if we have not done before. Learning is not only typical of children.
If our accounting is so complex that we can not carry only "head" (it is more common to be so), we can use the instruments that we are more comfortable to record numbers (books, bookkeeper brisbane, spreadsheets, calendars displayed in a visible place in the house, etc.).
It is not only a healthy habit, but a necessity , because our relationship with Don Money lifelong.
If you want you can give your opinion and tell us what techniques you use to control your accounting.
According to National Fire Protection Association and water damage repair in orange county, between 2005 and 2009 there were about 50,000 fires caused by children. Most injuries, damages and deaths of children playing with fire occurred at home, many of these started with lighters and matches. As parents, it is important to teach them about the dangers of fires at an early age. Provide the information necessary to ensure that they understand the consequences and keep away from items that can start fires can reduce the risk that small play with fire at home.
Instructions
1
Teach children about the origin of fire, explain that it is dangerous because it is hot, is expanding rapidly and because it creates smoke damages the lungs. Allow them to ask questions and answer them simply with a language that is appropriate for their age.
2
Warn them about playing with matches, lighters or fireworks and teach you to be reminded to you or another responsible adult if they find these items at home or in public. Set a good example and do not use the fire as a source of fun when you're near children.
3
Store matches and lighters out of reach of children in a drawer or a cabinet with safe and also keep dangerous items that start the fire out of the sight and reach of children. Buy lighters are safe for children and establishes clear rules and consequences of the misuse of fire.
4
Install smoke alarms throughout the house and give maintenance, make sure there is at least one in each level and your home in the bedrooms. Teach children about smoke alarms and explain what to do if an active se. Show them as crawling on the floor if there is smoke and teach them how to know whether the door handles are hot before entering the rooms, it is also important to know how to stop, drop and turn if your clothing or hair burning.
5
Make a plan in case of fire at home; It establishes two safe outputs to evacuate the house if necessary and designate a meeting place outside the home. It teaches children to not stay in the house if you are burning no longer hide from firefighters if they become trapped in a fire.
6
Read books to children about the consequences of fire and safety in case of fire. Visit local libraries and libraries for children with books on fire, fire and the damage that can cause fires.
A toy company known design changes to not discriminate against boys
About a year ago, the images of a 4 year old girl filmed by his father, accusing the company of trying to 'trick' girls to buy things pink, jumped to the network, instantly becoming the viral video Christmas. By then, many voices were raised in favor of thissmall philosopher of only half a meter tall, pointing directly to the majors as responsible for promoting what is known as gender marketing since childhood. The segmentation within the universe of advertising children are easily recognizable by simply walking among the shelves of any toy: the colors pink and blue tend to draw the line between what is aimed at girls from what they should buy children, and often find divisions between what theoretically like some and others like princesses against superheroes or kitchenettes against buildings or castles or best faucets. complaints about the differences that make marketing children's products had another flagship this Christmas: after videotaping his younger brother claiming cuisine also aimed at children, McKenna Pope, 13 years old toy, created an online petition in favor of gender neutral toys, that within four weeks could earn up to 45,000 signatures via the change.org platform.
The current design of the Hasbro toy kitchenette
Addressed to the peculiar demands: Hasbro , one of the major toy companies in the United States-is the second largest toy manufacturer in the world, behind Mattel, who, unlike what usually happens with most multinational, not only they responded favorably to the request , but this week announced changes in the design and packaging of his toy kitchen more popular, the Easy-Bake Oven to make it a product totally neutral and 'desirable' for both girls and boys. a very tender campaign that has attracted the attention of chefs from around the world who have not hesitated to join the initiative to create their own leitmotif , 'everyone can Cook' ( 'everyone can cook' in English), and who have joined the chefs Manuel Trevino and José Andrés. the actual toy in pink and purple, and becomes blue, with black and silver helping parents in the difficult task of choosing correctly children's toys . The new design, though, will not arrive in time for Christmas shopping: the toy will be unveiled in New York next February, and will go on sale in autumn 2013.
Would you like to give to kids' an introduction to the film that will never forget? Then put these movies in your dvd player, or if you have a smart phone or tablet with internet connected, everything you need is logging into project-free-tv.to, that is the best place to watch series and you will be able to watch movies for free online anywhere, anytime.
They say that children now don't like cinema, which are phase by digital effects and the 3D, that do not support a classic film and the idea of seeing a film in white and black makes them flee… Nonsense. As we have explained already in CINEMANIA, good part of the detachment of the little ones to the seventh art is given by the almost total absence of titles for them on the big screen. And as for your little interest in films you served… Well, you'll have to trust you from us and from our experience with nephews, nieces, brothers and younger sisters, sons, daughters and other small relatives together to masterpieces that have enjoyed as which you then present.
Given that the summer holidays (as long as usual, and warmer than usual) are falling, this website has thought of education for the movie buff in the morning. All these films are backed by our experiences as babysitters and caregivers 'locos bajitos', and is the faith that all of them are able to bewitch children of 0 to 99 years. Because not everything in this life going to Pocoyo or Dora the Explorer, right?
A Midsummer night's dream (Jiri Trnka, 1959)
Do we recommend it? Known as "the Polish Disney", Jiri Trnka (pronounced "Trenca") was one of the world masters of animation stop motion. In this film, his work more known internationally, made a gorgeous version of Shakespeare's play with puppets, enhancing its wonderful without for that reason betray the text component.And, if you think that your small can get bored with the speech, quiet: Trnka transformed the story into a movie without dialogues, and off that just says the action when it is essential. You can see it full on YouTube.
My Neighbor Totoro (Hayao Miyazaki, 1988)
Do we recommend it? The boss of Studio Ghibli is one of the best authors of film for children (and adults) around the world, something that was very clear in his fourth feature film. My Neighbor Totoro argument can be summed up in a line ("girls make friends of a monster that lives in the Woods"), but whole books would need to explain why it is so lovely, so much fun and so exciting. If you have children in your charge, be careful: do not stop until you promise them to bring travel in the toy Catbus.
Fantasy (Several directors, 1940)
Do we recommend it? For some it's a pretentious exercise in bad taste, but we know the truth: If we had not seen this film of children, our interest in the history of the music would be completely void. Converted into sketches of animation by Disney, factory parts of j. S. Bach, Stravinsky and Tchaikovsky and, above all, that the sorcerer's apprentice (Paul Dukas) with Mickey Mouse's protagonist turn into unforgettable experiences and sometimes (a night on the bare mountain, of Mussorgsky) also give a little scary…
The red balloon (Albert Lamorisse, 1956)
Do we recommend it? Two players (one is a boy, the other is filled with helium), the streets of Paris and little more than half an hour: whenever we see Red, globe remind you that to film a masterpiece not large budgets, nor large claims are needed.Regarded as one of the best short films in history, this great little movie is won the affection of spectators of all ages thanks to a history of friendship as exciting as grim reaper in words, and a finish that makes the hair stand on end. You can see it full on YouTube.
Toy Story 1, 2 and 3 (various directors, 1995, 1999 and 2010)
Why we recommend them? If you grew up with them, it does say so. If you need to explain it yourself, going beyond: the saga of Woody and Buzz Lightyear, the Pixarteam not only signed three consecutive masterpieces (probably the least irregular serial ever filmed) and it became fashionable 3D animation for the remains, but they also calculated to imply the requirements of the public according to their age: advisethe first for children the second for boys and girls something more adults, and the third for when children are already at age reflect and take questions.
Ponyo on the cliff (H. Miyazaki, 2008)
Do we recommend it? Miyazaki is one of the largest, deserves that we include two of his films in this report. And Ponyo is the latest masterpiece with your signature (to date), we recommend viewing the children to enjoy the Sun, the beach and boats. And to everyone else, also: this story of friendship between the son of a marine and underwater girl is a highly original version of the Little Mermaid, and the example of how a movie can convey environmental messages without lecturing.
Novice witch (Robert Stevenson, 1971)
Do we recommend it? Robert Stevenson was the director of real image par excellence of the Disney factory, so his work deserves a place here. As the Sin have had chances to see Mary Poppins on TV more than once, we bet at least apparent and we recommend a film that charms the fledgling fans of Harry Potter: as torpona as friendly, the witch Angela Lansbury might well have been a member of the familyWeasley, say no more.
E.T. the extra-terrestrial (Steven Spielberg, 1982)
Do we recommend it? 30 years doing crying children and adults around the world are a plenty to recommend this awesome movie. The history of Elliott and his friend's bright finger leads in Yes so many valuable lessons as moments of pure fantasy, and believe an injustice that a boy or girl can reach the age of acne without having learned to tell "Returns to the River, back to the forest", "my house, phone" or "zero charisma!". That not to mention air travel by bicycle, the interstellar transmitters made with toys or the hipidos of emotion before the final farewell.
Dark Crystal (Jim Henson, Frank Oz, 1982)
Do we recommend it? It is dark, Yes, but Save me seems to us more gloomy. Your fantastic argument (that continues to be that of a fairy tale) requires to follow him closely, but the same is said of The Lord of the rings and watch the kids as it is know from memory. And, in its day, was a commercial failure, which find us outrageous: the creators of The Muppets threw the rest in this as unclassifiable as great film, whose capacity to catch young viewers is the faith.
The Princess Bride (Rob Reiner, 1987)
Do we recommend it? Because it is simply magical. It is getting into the flour of the fantastic stories and remember the story of the legendary Pirate Roberts, ofButtercup, of Prince Humperdinck, Fezzick and Íñigo Montoya, major figures in a history that (despite be affixed in the rankings during the year of its release) is has been defending increasingly as a classic. Surely, the best possible introduction for the adventure film.
Monsters S.A. (P. Docter, D. Silverman, L. Unkrich, 2001)
Do we recommend it? Two movies (well, four in total) of the factory Pixar are always better than one, and jobs to put children in the Pocket this classic comes to or painted.In addition to a disarming tale of friendship and adventure, monsters S. À. It is a great antidote to fear darkness and night terrors: If, instead of a dark creature, the children know that Jake and Sulley, is hiding in your closet time miss them to go to bed early.
The boy (Charles Chaplin, 1921)


Do we recommend it? In little more than one hour (very long duration for the time), Chaplin invented what we now call 'family film' with this work pioneer. Proof of his talent is that the film continues to fascinate us, and that it is one of the best ways to start to the kids in the most classic film. It may the story of the Tramp and his adoptive son you seem something tear to put the children, but ignore us: in the end will be the children who bring the handkerchief so cry to taste.
The bear (Jean-Jacques Annaud, 1988)
Do we recommend it? It is clear that children are more identified with actors of his age, and that the animals most like. So why not sit next to them to see a film whose protagonist is a bear cub? With an exquisite touch, the director of the name of the rose directed a cast made up of Plantigrade, pumas, rodents and some human than another in this film, which is like a documentary about wildlife, but much more exciting and fun.
The war of the buttons (Yves Robert, 1962)
Do we recommend it? Our parents enjoyed it, then we were who we aim and now discover it to the new generation. Not only because this French movie is more fun, that is, but also because it is a satire against the war and their stupidity that deep at any age.
The Goonies (Richard Donner, 1985)
Do we recommend it? At this point, you have provided enough film to watch with your kids (or nephews, or the children of your friends, or…) during many school holidays.Thus, it seems correct to put an end to this small classic that does not lose force. Why?Maybe because, in addition to a history of adventures and a hilarious comedy, The Goonies is also a film about the last moments of childhood, which can serve as an appetizer to other works of the same character as count with me. Someone is targeted to find the treasure of Willy the one-eyed?
Painting a room, use a hair dye, clean the house or use certain detergents, cooking or preserving food, certain plastics can have harmful effects on the health of pregnant women and children as the advancement in age the first rule, childbirth with undescended testicles or develop breast cancer in their 30s or 40s. It is the alert among others-that is launched from the seventh meeting of the Galician Association of Primary Care Pediatrics, held in Santiago today.
The closing deals with this issue with the title of "mother-child exposure to environmental pollutants with hormonal activity." The offers Nicolás Olea Serrano, coordinator of research on this topic at the Clinical Hospital of Granada, a city where he is a professor in the Faculty of Medicine.
This doctor aims to cause harmful effects to certain chemicals in detergents, cosmetics, pesticides and plastics "that, once inside the body mimic natural hormones. Sometimes they are components of plastic, sometimes they are compounds in detergents even cosmetic or pharmaceutical products. "
In addition, the professors from gynecologist also warns that exposure to these substances can be very early in life and yet, generate late effects. The earliest effects that have been studied so far, are those of cryptorchidism or testicular descent. Professor Nicolás Olea Serrano explains is that "children are born without testicles in the scrotum because, among other reasons, to the mothers of these chemicals are exposed".
Another effect is pointing the decline in sperm quality; while in the case of girls, you can overtake the first rule them or develop an increased risk of having breast cancer at an early age. "Before, the average was to have 60 years and now there are many cases between 30 and 40 years," he says.
In addition to hormonal effects, other research groups have studied the effects of chemicals such as organophosphates (found in pesticides, including pet veterinary use), which can cause neurodevelopmental problems in children from age five.
How to avoid the presence of these chemicals in the body? Olea Serrano gives some advice: "Switching to organic farming where fewer chemicals are used in agricultural production A second tip is to reduce exposure during pregnancy and lactation, using less plastic in baby bottles and teethers children, please. example, or using cosmetics as natural as possible. Today, in supermarkets, there are green cosmetics and bath gels labeled 0% phthalates, dyes 0% ".
However, supermarket chains also sell products labeled organic, however, show the label chemicals as parabens, with also harmful health effects, according to multiple studies. "That's the key. You have to learn. Look at labels much," he adds.
Regarding the voices that qualify these notes social alarm, the professor recalls, "we become sinks chemicals at very low doses. Some perfluorinated residue of the pan, a little plastic microwave, some pesticide tomato, a little coloring shampoo … The recommended exposure (legal) is designed for a substance and an individual product, considered one by one and not several from multiple sources. "
A 3 year old girl and a 6 have been hit by a crane after a multiple accident occurred at kilometer 74 of the A-3 towards Valencia, in the municipality of Belinchón (Cuenca).
A 3 year old girl and a 6 have been hit by a crane after a multiple accident occurred at kilometer 74 of the A-3 towards Valencia, in the municipality of Belinchón (Cuenca).
As a result of the collision, she has emerged unscathed, but the child had to be transported by medical helicopter Health Service of Castilla-La Mancha (SESCAM) to a hospital with a strong hematoma.
As reported by sources of the Prefectures in Cuenca to Europa Press and www.ptsworks.com, the accident has been caused by a multiple range in which have been involved in around ten vehicles. Although initially there were no injuries, it was later when the crane has hit the two minors.
Sources from the Ministry of the Presidency and government have indicated to Europa Press that the scene have mobilized a mobile ICU and basic life support ambulance based in Tarancon, Cuenca Civil Guard, a unit maintenance roads and medical helicopter.
The Traffic Department that there were deductions at A-3 of 20 kilometers around right now, from the scene to the town of Fuentidueña de Tajo (Madrid).
Care of the feet of children
Since the beginning of the life we are given healthy feet, but feet are the forgotten and then have problems with development and abuse to which we submit them. "People seldom use of proper footwear and that makes 75% and 80% of the adult population has a problem in the foot" – said the foot doctor in Newark.
Unfortunately, frequently tips on these problems not been seeking until they are already irreversible or very complicated to solve. It is clear that attention in the early years of training is very important and can save many problems in adulthood. The foot is a true wonder of the "biological engineering" and its complexity can be understood perfectly. We just have to think that the bones of the feet account for one-eighth of all that there is in the body. The foot is able to propel the body and protects it from mechanical shocks and tensions throughout life.
Early development of the foot
At the time of birth and the first year or so of life, babies toes are very different in many aspects of an adult.First of all they have a different way, being more broadband in the front part of the foot and narrow heel, with the often curved toes. Secondly, the bones are not developed and at this stage it consists of nothing more than cartilage, so they are soft and flexible. This is the reason why young children can do things without your feet suffer no harm at all.
The 26 bones in each foot develop gradually throughout the early years, becoming basically bones at the age of 7-8 years. At this point the toes have usually already straightened. However, they do not develop fully until the end of adolescence.
Early care of feet
It is very important to let the baby's feet to develop in the most natural way possible. You should encourage your baby to walk barefoot at home and outdoors (whenever possible) and prevent constrictions from clothing. In this way, the muscles of the feet and legs will begin to be strengthened and will be ready for when you begin to walk.
Babies and young children feet grow at an alarming rate (often exceeding the family economy). That is why it is important to take into account the size of the socks, shoes and, in particular, one-piece garments (such as some pyjamas). If these items start to be adjusted, it is necessary to buy new ones so your feet can grow uninhibitedly. In the case of clothing parts, they can be cut.
First steps of your baby
When baby takes the first steps, it becomes a great moment for parents and is also undoubtedly an achievement for the child. As a parent, you should resist the temptation to rush to buy the first pair of shoes.Babies feet are flat and at this stage, they are still designed to work barefoot.
You should not force a child to walk ahead of time. They will do this when they are ready and the age varies greatly among babies, first steps occur between 10 and 18 months, however, even if they do after this age, does not necessarily mean that something goes wrong.
First shoes
In the early stages of the walk, the shoes are unnecessary. In fact, it is desirable to allow the baby to walk barefoot and strengthen the muscles of the feet. Obviously, there to make sure there is nothing on the floor that can damage the feet and make sure the area is clean to minimize the risk of infection. Once the baby is ready to go outside, the protection of shoes is necessary. Buy a shoe of good quality, with at least the leather uppers.
Make sure that socks fit well also. As stated before, too tight will be restrictive and too loose could also cause problems. Always leave a reasonable amount of space in the shoe for future growth.
The feet of the children are not too sensitive and very flexible so often do not complain of the areas of pressure or friction. Therefore, it is important to check their feet regularly (for example in the bath time).
Common problems and anxieties
Mothers often worry because your baby seems to be walking with flat feet. In the early stages of development, which is normal and gives them a more stable base until the legs and feet have been strengthened. Flat foot seems to persist in an infant and apparently causing problems, see a Podiatrist, who will be able to advise if appropriate exercises or corrective templates you might need.
If your child seems to stumble a bit more than normal, then it must be observed how steps to see if you may be having any physical difficulty. Sometimes these difficulties are a variation in the development of the hip and it is recommended to visit a doctor or Podiatrist. They will be able to offer the appropriate advice.
Leather shoes are adapted to the shape of the foot, so it should never change is among children, since the shape can be totally inadequate and even cause harm. Here are some simple tips:
Tips for feet of babies
Replaces shoes with a larger size, as soon as necessary.

Teach children to put the heels remains to walking.

If they do wrong, this will affect the entire body and its balance.

Feet for at least two to three times a week you bathe in warm water.

Cut nails of the feet in a straight line.

Not redondees the corners.

Corns and calluses require professional care, since they may be symptoms of a more serious disease of the foot.
Toenails are usually caused by a bad cut, but there may be congenital curvature, injury, shoes and socks, ill-fitting, fungi and orthopedic problems that are contributing factors.
Keep shoes for children in good condition.
It provides a healthy and balanced diet.

Teach children to practice daily hygiene to guard against athlete's foot.

Once the infection is contracted to not try the treatment without professional advice.

Seek professional help as soon as possible, if the child has knee joints or legs or arched feet.

These defects may be the result of other foot problems.

Many of these conditions can be corrected easily if cared for well is given in the early stages

Make that the feet of the children are examined at regular intervals by a Podiatrist.

Remember that the foot health begins in childhood and a child's feet should serve you for a lifetime.

Your life will be happier if you help him to develop strong and healthy feet as they grow to maturity.